Sometimes people start a conversation by saying that they do not know – about art, or whatever subject in question. Regarding art, however, dealing with it and conversing about it is not obviously a matter of competence.
Should it be possible to enjoy an artwork for any lay person interested – just as much as for any art professional? I shall approach the question "Knowing about art?" by first contrasting lay against professional, then everyday culture against high culture, and thirdly secular against transcendent.
A "professional" look at the professionals
Do professionals enjoy art more than lay people? Not according to a study presented in FAZ in April 2011. According to the FAZ article a somewhat persistent researcher had found, that it was rather the other way round. Using instruments, he measured the physiological reactions (sweat, etc.) of people looking at art. If you accept such an indication, the professionals were less moved compared to lay viewers.
The method can be questioned, but the finding resonates with a pattern I think is relevant for a few professions. Those trained and practising in a profession, tend, I believe, to look at things in their field with a "clinical" gaze. So, e.g., people working with advertisement may see every new ad as a kind of business update. They probably suffer less from the ads' constant hammering on your senses. Also, psychologists are trained to look at a human puzzle without being puzzled themselves (and so many other helping-professions with a psychological touch).
Everyday culture against high culture
Everyday culture is "democratic". By everyday culture I here mean values, beliefs, and doing that are shared by all members. If nothing were shared, there would be no community. (If little is shared, the community is "thin".) Everyday culture is sometimes called the anthropological concept of culture.
To greet people you meet is an example of everyday culture. Greeting might even be universal – required in all cultures. In modern times, however, we limit greeting to people we know plus those to whom we are introduced (personally or by context). A beautiful African greeting goes like this: ‑ I see you and the answer – I am here.
High culture can be described as what goes on in cultural institutions like museums, theatres, and galleries. But of course, this does not say what those institutions should offer.
Certainly, some people will reject the idea of high culturealtogether. Culture is one of those things that can only be understood from the inside. To someone who has none of it, you cannot explain what it is. Luckily, we all grow up in some sort of everyday culture, so we all have that. High culture, however, is a matter of education.
Secular against transcendent
High culture has sometimes been seen as a replacement for religion. If the church does not bring us together, and helps us remain decent, perhaps a good museum or a secular monument can? The more high culture, the deeper the community?
We can think of everyday culture and high culture as two levels, and secular and transcendent as two perspectives. Combining the two dimensions, we get four different outcomes suggested in the table below. Under the table find the four outcomes illustrated by examples. (I see this model as tentative.)
Level >
Perspective v
Everyday culture
High culture
Secular
Banal
Atheist
Transcendent
Sanctified
Religious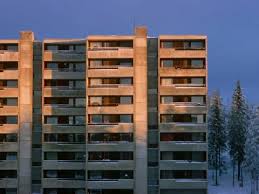 High culture can be seen as an attempt to reach beyond nature (materialism) without religion. The difference to the left between the Romsås architecture and the Munch painting is Munch's painting, isn't it? Did Munch add something which makes a banal house with a banal (?) woman and an approaching banal man magical? Or would you be able to see a real house as just as magical?
But isn't Munch high culture? If so, the painting should be moved to square 4. But is it religious? Remaining in square 3 would only the house itself – but seen with the gaze of an artist?
If we cannot readily see an ordinary house as magical, at least we can contemplate the painting. High culture reveals the magic of (everyday) life and you can return to it with a new sense of life.
The artwork of the fortnight is this publication – the art of communicating under difficult circumstances.